WELCOME TO ZAKYNTHOS!
Our retreat, was not accidentally named Anagenessis (the greek word for Renaissance), it was created with a great deal of emotion and love.
The architecture of «Anagenessis Village» is based on old Zakynthian traditions and culture. The main building is the mansion where the Count and Countess spent their summer holidays. The streets (alleys) and the front of the smaller buildings are replicas of buildings, that you will find when you take a walk in the old city of Zakynthos with their Venetian arches and columns.
The view to the mountains, to the sea and the garden from the balcony or the terrace of the apartments from «Anagenessis Village» will reward you for choosing us to trust your summer vacations.
We gave a great deal of attention to the equipment of our rooms, so that we can ensure you a peaceful and relaxing stay.
RELAX & REJUVENATE
Continuing your tour through the hotel, the paved path will lead you in front of the Center for Holistic Therapy. In the Holistic Therapy Center you will be given the opportunity to live the experience of revitalization of body and soul, accompanied with the feeling of harmony. . .
OUR RESPONSIBILITY
Our aim is to feel at home so we attended with great care and responsibility in addition to all others for your safety. Also we tried to assure easy access in all rooms for friends with moving problems.
Reception

Outdoor pool


Children's Pool

Swimming Pool


Restaurant

Snack Bar


TV

Cafe


Lounge

Baby cot on request
Jewellery


Garden

Mini golf


Pool table

Transport Services


Holistic Therapies

16h Reception service


Ping pong

Playground


Wake-up call service

Parking

Daily cleaning

Room Service


Exchange Service

Safe Deposit Box


Car Rental


Dry Cleaning

Internet Access


Credit Card Transactions

Towel change on request
Revitalising Health-Nutrition
Holistic Treatments

Nutrition

Visits to Museums
Museum Eminent Zakynthos

Mausoleum Solomos and Kalvou


Museum of Natural History
Exploration of Nature
Hiking

Cycling

Fishing


Diving

Boat rental

Daily Cruises

Horseback Riding
Get accustomed to local culture
Taste fresh local ingredients (eggs, honey, wine, olive oil)

Watch Zakynthian Traditional Performances

Visit the local winery

More about the history of our island
Visit the Venetian fortress on the hill of the great Bochali view

Visit the dozens of churches with bell towers


Visit the Piazza San Marco, where the populace rebelled and burned the Libro D'oro.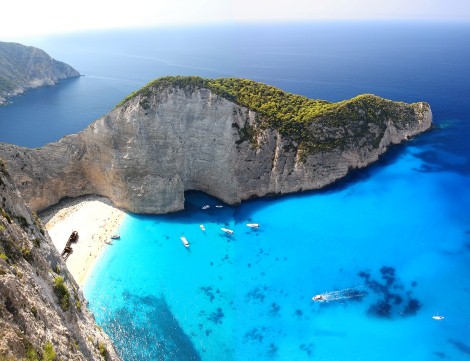 Zakynthos
Zakynhtos. A thousand and more faces. Mantolins, songs, romantic beaches, mountain villages with traditional smiling faces and cosmopolitan places. All these are what charms you from the first moment. The streets with the arches, the old buildings, the uniquely architecturally designed bells accompanied by their churches, the historic squares(Solomos, Saint Marcus), the historic hill of Strani, the Mpochalis, that Xenopoulos characterized like the balcony of the Mediterranean Sea and the Venetian Castle are only some reasons for which thousands of tourists visit the island every year.